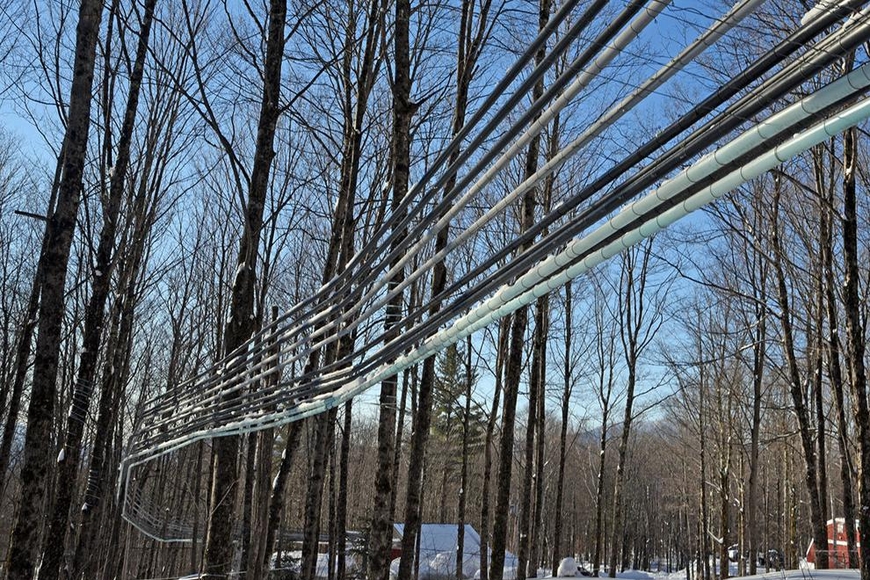 The Windsor County Maple Producers Association is planning another tubing and mainline recycle event for Saturday, Nov. 4, 2023 in South Woodstock at the Fire Station just off Route 106 on Morgan Hill Road. This event is co-sponsored by the Northwest, Greater Upper Valley, and South Windsor/Windham Counties solid waste districts.
Do you have some tubing and mainline already in a pile or are you thinking of taking down some tubing this fall? If so, you should consider bringing it in. Please pre-register with estimated volume in cubic yards between now and October 31 (an 8 foot bed pickup truck = about 1 1/2 to 2 cubic yards). Call or email Mary McCuaig to register or ask questions (cell 802-353-3035, landline 802-457-3779 or marymaple13@gmail.com).
Please feel free to share this event with other sugar makers; no need to be from Windsor County to participate!
There will be a charge to recycle, but if you remove the fittings and spouts ahead of time it's quite minimal. If it's not practical for you to remove them it's still pretty reasonable.
What you can bring in:
HDPE SAPLINE – the most commonly used line today and for the past 15 years. A small piece will float in water.
PLASTIC MAINLINE, any color, NO PVC
POLYCARBONATE SPOUTS, clear or tinted, single use spouts, called signature spouts by CDL. Please NO Nylon spouts.
BRING in your vehicle to So. Woodstock to be unloaded to a Roll off (Dumpster).
CHARGES AND PREPARATION:
$23.00/Cubic Yard for tubing with fittings and droplines attached, coiled using tape.
$7.00/Cubic yard for tubing WITHOUT fittings, coiled with little or no tape.
$7.00/Cubic yard for mainline with no fittings, wire or clamps, CUT into 3 FT PIECES
$0.10/pound for spouts, bring in pails to be dumped.
Suggestions for preparation – Try removing the fittings as you pick up the tubing in the woods. That makes it easier to coil the tubing into small rolls of about 18 inches. Wind the line around itself to hold it together so very little or no tape is needed to secure the roll. The small rolls of line are more easily handled and can be stored in large boxes or in a pile. Except for the poly spouts the fittings are trash, but work is being done to
find a place to recycle them. If removing the fittings is not practical for your operation, you can still coil the tubing around itself to make small rolls.

The polycarbonate spouts can be collected in pails or boxes. The small piece of tubing left on the spout is OK. But cut the tubing as close as you can to the spout. Please try to bring in relatively clean sapline and spouts. Some dirtiness is unavoidable but leaves and debris is too much contaminate.

Pieces of mainline can be mixed in with the tubing, the charge will be at the lower rate of $7 per yard if it's mixed in with tubing that has had the fittings removed.

Call or email Mary McCuaig to pre-register or ask questions:
Cell phone 802-353-3035, land line 802-457-3779
Email, Marymaple13@gmail.com
Next Event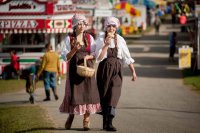 "A Vermont Town, A World's Fair", celebrating 150 years! For more information, visit: tunbridgeworldsfair.com