Evan Fletcher & Charlie Schurman
2022 Vermont Maple Ambassadors
Evan Fletcher - 2022 Maple Ambassador, Fletcher, VT
Evan is a 7th generation sugar maker from Fletcher, VT. His earliest memory of sugaring is trying to drink the sap from the trees when gathering buckets. These days, Evan helps in his family's 1,000 tap sugarbush by fixing the lines, tapping, boiling and removing spouts. Evan's family owns the Vermont Maple Outlet in Cambridge, VT where they boil their sap on a 2'x 6' evaporator. They boil at the store where Evan does most of the boiling and gives tours explaining the maple sugaring process. In school, Evan even helped teach part of his Farm to School class when one of the units was on maple sugaring.
Charlie Schurman - 2022 Maple Ambassador, Jay, VT
Charlie's family runs an operation with about 56,000 taps on land in Jay and Eden, VT. At six years old, Charlie's first job in her dad's sugarhouse was making sure the maple syrup didn't boil over the pan. As time went one, she gained additional chores like stacking wood, checking the sap levels in the tanks and learning how to grade and bottle syrup. The sugarhouse quickly became her second home and walking the lines, making repairs, trucking sap, and feeding the fire became part of her everyday life. Charlie is an active volunteer in her community with the Jay Focus Group, Coats for Kids, Water for Sudan and other local organizations.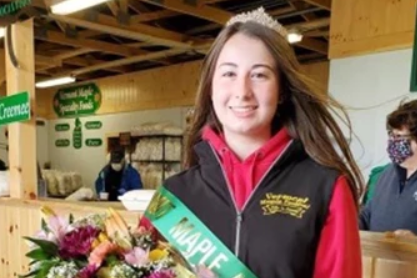 Abigail Gagne
2021 Vermont Maple Ambassador - Highgate, VT
Abigail grew up on a 350-acre sugarbush with 22,000 taps. She's been involved in maple her whole life. In her infancy, she watched her Grandfather boil sap and now today she cleans filter presses, moves barrels, cleans tanks and checks lines daily after school. She has been a volunteer at the Vermont Maple Festival since she was 12. She's been interviewed and featured in The Washington Post and Forbes Magazine. In June of 2019, she represented young females in the maple industry at The Fancy Food Show in New York City. In 2020, her family's sugarhouse held the annual Governor's Tree Tapping Ceremony, which she helped organize.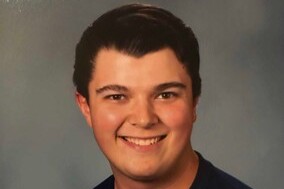 Dustin Beloin
2021 Vermont Maple Ambassador - Jay, VT
Dustin lives in Jay and is an intracule part of his family's 3,700 tap operation. He also helps out at his Grandfather, Jacques Couture's sugarbush as well as his neighbor's. His maple skill set ranges from setting up lines, tapping, cutting firewood, and building anything to make sugaring more efficient. Dustin currently attends North Country High School and Career Center and has been involved with Vermont FFA, holding the rank of Officer for two years, he recently just accepted the role of President for his Senior year. In his time with FFA, Dustin has helped with some of their best fundraisers, which have included making value added maple products including maple lollipops, maple sugar and coated nuts. After high school, Dustin plans to pursue a degree in Natural Resources in college.