Banana Berry Baked Oats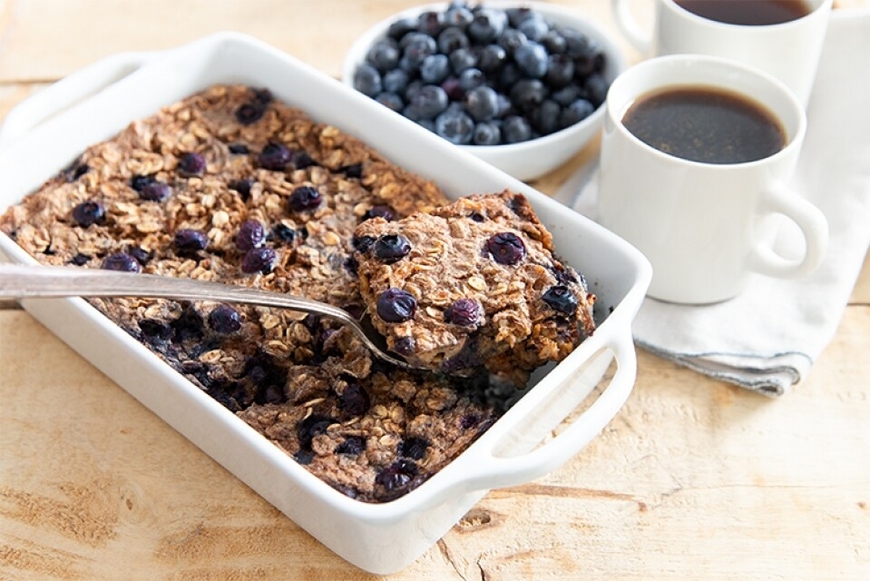 Recipe from StrongerTogether.coop
Ingredients:
Vegetable oil (spray)
2 cups rolled oats
1/2 cup chopped walnuts (optional)
1 banana (peeled and sliced)
2 cups almond milk
1/2 cup maple syrup
2 tsp vanilla extract
2 Tbsp ground flax seed
2 tsp ground cinnamon
1 tsp baking powder
1/4 tsp salt
1/2 cup blueberries (fresh or frozen)
Instructions:

Preheat the oven to 375°F. Grease an 8-inch square baking dish with vegetable oil spray. In a large bowl, mix the oats and walnuts. In a blender or food processor, puree the banana. Add the almond milk, maple syrup, vanilla, flax, cinnamon, baking powder and salt and mix. When smooth, pour over the oat mixture and stir to mix well. Fold in berries. Scrape into the prepared pan and smooth the top.
Bake for 30-35 minutes, until the top of the oats look dry. Transfer to a cooling rack and serve warm, or let cool completely and store, tightly covered, in the refrigerator for up to 4 days.
Next Recipe
Recipe from Cook with Manali Ingredients:1/2 cup water1/2 cup maple syrup2-3 twigs rosemaryTo make the mocktail1-2 oz of the prepared syrup 2 oz for sweeter drink2 oz cranberry juice no sugar addedPinch…