Cranberry Maple Ginger Muffins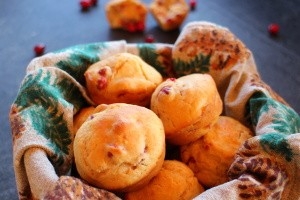 Makes 12 medium sized muffins
2 cups all-purpose flour
3/4 cup maple sugar, or to taste
1/2 teaspoon salt
3 teaspoons baking powder
2 teaspoons fresh grated ginger
1 egg
1 cup milk, plus more if needed
3/4 cup of fresh cranberries roughly chopped
Preheat oven to 400°F.
Grease muffin tin or line with muffin liners. Mix together all dry ingredients. Make a well in center of bowl and add wet ingredients. Stir together with spatula to combine wet and dry ingredients until moistened. Batter should be lumpy and thick. Gently fold in cranberries. Scoop batter into tins using an ice cream scoop about two-thirds full. Bake 20 minutes or until toothpick inserted in center of muffin comes out clean. Let rest for 5 minutes out of the oven and serve warm.
Next Recipe
A Vermont version of a classic cookie.