Maple Blueberry Coconut Popsicles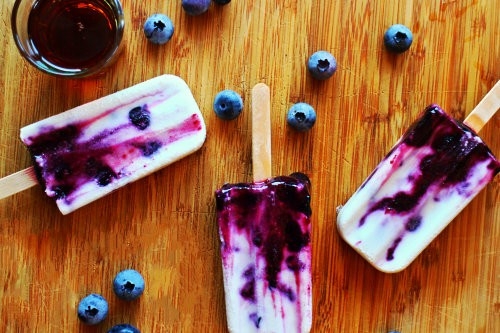 Makes 8 Popsicles
For Blueberry Sauce:
2 cups blueberries
1/3 cup pure maple syrup
1/2 cup Greek yogurt
3/4 cup canned coconut milk
1 Tablespoon pure maple syrup
For blueberry sauce, combine blueberries and 1/3 cup of pure maple syrup in medium saucepan and simmer over medium heat. Stir occasionally. You do not need to mash the blueberries as they will soften to desired texture with cooking. Combine remaining ingredients in a a small bowl. Fill popsicle molds 3/4 full with yogurt mixture. Spoon in blueberry sauce on top and gently push down into yogurt leaving 1/4 – 1/2 inch of space on top of mold to allow for expansion in freezing process. Freeze for 3-4 hours and enjoy!
Next Recipe
Sometimes a roast chicken is the perfect main course. And the flavors of Vermont maple, lemon, and garlic combine to make this an easy way to make a roast chicken just that much better.