Maple Gooey Butter Cake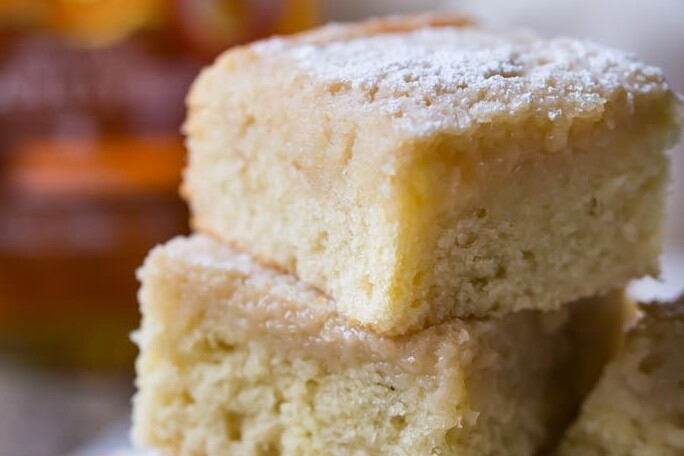 Recipe from Baking A Moment
Ingredients:
2 cups all-purpose flour
1 teaspoon baking powder
1/2 teaspoon baking soda
1/2 teaspoon kosher salt
1/2 cup unsalted butter, softened
2 large eggs
1/2 cup pure maple syrup
3 tablespoons Greek yogurt or sour cream
3 tablespoons milk
1 teaspoon vanilla extract
FOR THE GOOEY BUTTER TOPPING
12 tablespoons unsalted butter, softened
1 1/4 cups pure maple syrup
1 cup all-purpose flour
1 large egg
1 teaspoon vanilla extract
1/2 teaspoon kosher salt
powdered sugar (optional for garnish)
Instructions:
TO MAKE THE CAKE LAYER:
1. Preheat the oven to 350 degrees F, mist a 9×13-inch baking pan with non-stick spray, and line it with parchment.
2. In the bowl of a stand mixer, combine the flour, baking powder, baking soda, and salt.
3. Stir to combine.
4. Add the softened butter, and mix on medium-low speed until the mixture resembles damp sand (about 3 minutes).
5. In a large liquid measuring cup, whisk together the eggs, maple syrup, Greek yogurt (or sour cream), milk, and vanilla.
6. Pour the liquid into the dry ingredients, and stir together on medium speed for about a minute to a minute and a half.
7. Transfer the batter to the prepared pan, spreading it into an even layer.
TO MAKE THE GOOEY BUTTER TOPPING:
1. Place the soft butter, maple syrup, flour, egg, vanilla, and salt in a small bowl and whisk together until smooth.
2. Pour the mixture over the unbaked cake layer.
3. Bake for 28 to 32 minutes, or until set underneath but still a little jiggly towards the very center of the cake.
4. Cool completely, cut into bars, and dust with powdered sugar for garnish.

Next Recipe
Recipe from Full of Plants Ingredients:CRUST1 and 1/2 cup (150g) oat flour1/2 cup (50g) almond flour5 tbsp (75ml) coconut oil, softened2 tbsp (30ml) maple syrup1 tsp (5ml) vanilla extract1/8 tsp salt FILLING3…