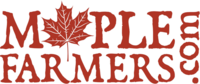 Maple Farmers
Our small batch, single-sourced maple syrup is traditionally crafted with care and hard work on small family farms. We boil over wood fires, and we bottle in glass to preserve the color and flavor. We are proud to offer you the true flavors of the Vermont maple syrup experience.
Open House Info:
Open Dates:
Saturday, October 1, Sunday, October 2
Saturday 10/1 Open House Hours:
10-2
Sunday 10/2 Open House Hours:
10-2
Saturday 10/8 Open House Hours:
none
Sunday 10/9 Open House Hours:
none
Open House Activities:
Join us at Maple Flower Farm for a maple syrup tasting event featuring small-batch syrup from six small family farms. Tour the rustic sugarhouse and relax with a flight of maple syrup!