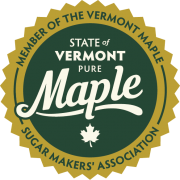 We hope that you'll consider renewing your membership in the Vermont Maple Sugar Makers' Association in the coming year or joining us for the first time. Being a member of VMSMA means you support the long-term viability of the maple industry in Vermont. Members receive many benefits, including:
Members can stay on top of industry news through the VMSMA news updates and a discounted subscription rate for the Maple News.
Save on supplies, equipment, and work apparel at local stores.
More information on benefits and discounts can be found HERE.

Powered by Wild Apricot Membership Software