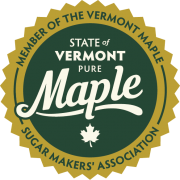 We hope that you'll consider renewing your membership in the Vermont Maple Sugar Makers' Association in the coming year or joining us for the first time. Being a member of VMSMA means you support the long-term viability of the maple industry in Vermont. Members receive many benefits, including:
Members can stay on top of industry news through the VMSMA news updates and a discounted subscription rate for the Maple News.
Save on supplies, equipment, and work apparel at local stores.
More information on benefits and discounts can be found HERE.
2021 Membership Raffle
Renew your VMSMA membership by 12/31 and we'll automatically give you 4 entries in our gift card raffle (renew by 1/31 and we'll thank you with 2 entries)! Many thanks to our generous friends at CDL and Dominion & Grimm for each donating a $100 gift card to our raffle!
The following members are our raffle winners:
Lapierre $100: Andrea Ambros, Hartland
D&G $100: Matthew & Erika Chagnon, Berkshire
CDL $100: Roy Corse, Whitingham

Member Testimonials:

Kenn Hastings (Bread Loaf View Farm)
I have been a Sugar Maker for 35 years, and I continue to appreciate the value in being a VMSMA member. From the early days of the "County Meetings" to today's virtual meetings, they have provided its membership with the latest research, the most current trends, as well as improvements to our time honored practices. Throughout the decades, we've been able to count on the VMSMA to stay true to its founding principles, the promotion of our Vermont maple industry. We can all benefit from being members of the Association.
Bette Lambert (Silloway Farm)
We appreciate the marketing, the brand building, and the support that the Vermont Maple Sugar Makers' Association does for maple producers. We enjoy a reputation of the highest standards, producing the highest quality maple syrup in the world, and desire to leave generations to come with a prosperous industry. Maple is king in Vermont, and VMSMA is a part of maintaining that wonderful image.


Powered by Wild Apricot Membership Software