Vermont Maple Muffins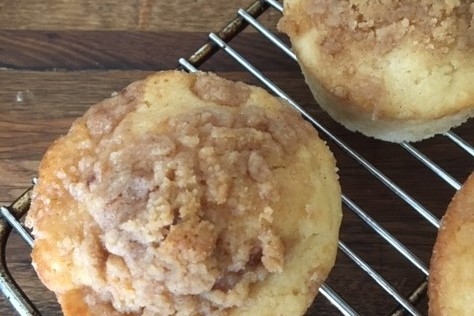 Makes 12 muffins

Muffin Ingredients:
2 cups all purpose flour
1/2 cup brown sugar, packed
2 tsp baking powder
1/2 tsp salt
3/4 cup milk
1/2 cup butter, melted
1/2 cup maple syrup
1/4 cup sour cream
1 large egg
1/2 tsp vanilla extract
Topping Ingredients:
3 Tbsp all purpose flour
3 Tbsp maple sugar (can substitute granulated sugar)
1/2 tsp cinnamon
2 Tbsp butter, cold
Preheat oven to 400 F degrees. In a large bowl, combine flour, brown sugar, baking powder and salt. In a medium bowl, combine milk, melted butter, maple syrup, sour cream, egg and vanilla. Stir wet ingredients into dry ingredients until moistened; don't over mix.
Fill greased muffin tins about 2/3 full.
Mix topping: combine flour, maple sugar and cinnamon. Cut in butter until crumbly. Sprinkle topping over unbaked muffins.
Bake 16 – 20 minutes, until done. Cool 5 minutes and then remove from pans to a cooling rack.
Next Recipe
This cocktail is your perfect apres ski or snowshoe beverage. Fresh rosemary plays up the herbal flavors of our maple Tap & Tonic drink.