Maple Granola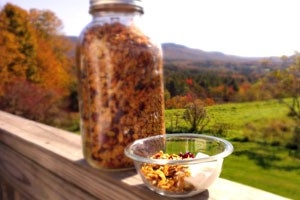 Yields about 10 cups
4 cups old-fashioned rolled oats
1 cup shredded coconut, preferably unsweetened
1 cup sunflower seeds
1 cup pumpkin seeds
1 cup slivered almonds
1 cup pecans, roughly chopped
1 cup pure Vermont maple syrup (Grade A Dark Color with Robust Taste is best)
1/2 cup extra virgin olive oil
Kosher salt
1 cup sweetened dried cranberries
Preheat oven to 325 degrees. Combine rolled oats, coconut, sunflower seeds, pumpkin seeds, almonds, and pecans in a large bowl. Pour maple syrup and olive oil into bowl and mix thoroughly. Sprinkle with a generous pinch of salt and pour mixture onto large baking sheet, spreading to create a uniform layer.
Bake granola, stirring every 15-20 minutes, until it is golden brown, about 1 hour.
Serve and enjoy!
Next Recipe
Bourbon and mint meet maple in a Vermont twist on an iconic Southern cocktail.