Tap to Table: VT Maple Syrup Inspires Culinary Creativity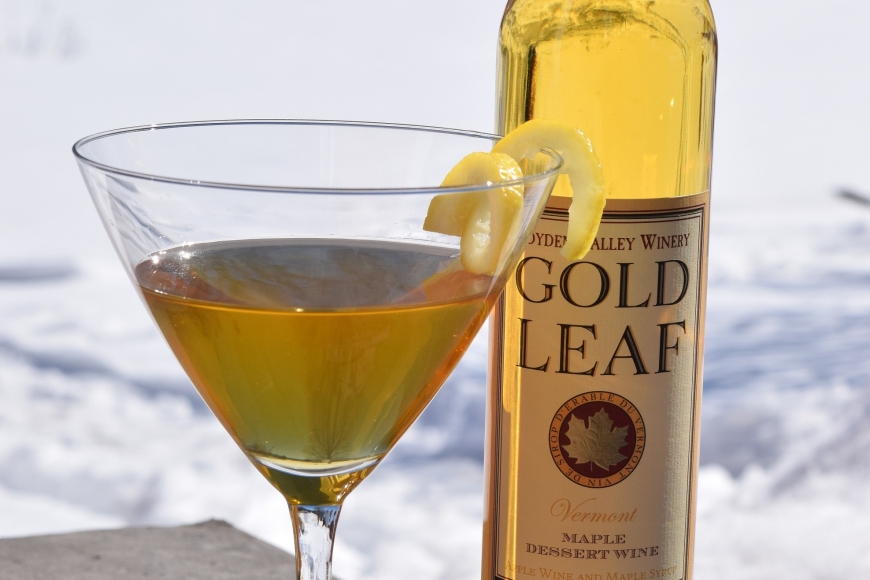 This article appears in the Vermont Official Winter Vacation Guide 2018. You can view the publication in it's entirety on the Vermont Department of Tourism and Marketing website, www.vermontvacation.com, or request a free vacation packet to be delivered to you. We invite you to visit Vermont and our sugar houses and other businesses that feature maple year-round. The following points out just a few of the many stops in Vermont that highlight unique uses for Vermont maple.
There is no arguing Vermont's visual landscape is unmatched in its astounding display of natural beauty attracting camera-ready visitors and spoiling the lucky locals fortunate to call it home. Additionally, a growing number of visitors find themselves drawn to an equally exquisite and unparalleled experience to taste their way through Vermont. On your tasting travels, you'll find one flavor stands out among the rest. Long before there was a Ben or a Jerry and even before Cabot produced that first block of cheddar, Vermont maple syrup was setting the stage to become "The Official Flavor of Vermont". The stories and legends of how maple sap was first discovered and made into maple syrup vary slightly, but all share the common belief that maple syrup and granulated maple sugar were enjoyed by Native Americans well before the French explorer Samuel de Champlain stepped foot on Vermont soil.
Today, Vermont maple is enjoyed not only for it's pure and natural wild-crafted deliciousness, but also for its nutritive content of naturally occurring minerals and antioxidants. That's fancy talk for, "it makes everything taste better and you can feel good about using it as your sweetener of choice". Vermont maple syrup is the irrefutable #1 breakfast topper on everything from pancakes to granola, but a growing number of uses for maple are pushing beyond traditional recipes and spreading their proverbial wings into culinary greatness and masterfully concocted food and beverage recipes. Lucky for all of us, many of these recipes and products are featured by Vermont businesses who are inspired by the unique flavor qualities of pure Vermont maple syrup and are available for us to enjoy to our heart's content.
In your travels through Enosburg, VT passing scenic farm fields outlined by the winding Missisquoi River, stop into Boston Post Dairy. This family-run farm owned by Robert and Gisele Gervais and their daughters, Anne, Theresa, Susan and Annette features a plethora of maple goodies made from their own maple syrup. They are also known for their goat's milk cheeses and offer a viewing window of their cheesemaking room. Available in the retail store is their Maple Chevre. Pure Vermont maple cream is blended with their chevre to make the most delicious dessert cheese your mouth could imagine.
Vermont is also widely known for its craft breweries and their efforts to work with local farmers to source the ingredients that make up the flavor profiles of their amazing beers. 14th Star Brewery in St. Albans, VT, home of the Vermont Maple Festival, is a must-stop in your travels. Their Vermont Maple Breakfast Stout is one of their top selling beers and is always on tap. The veteran-owned brewery is community focused, hosts a number of annual charitable events and uses only pure Vermont maple syrup produced by hard-working Vermont sugarmakers.
Increasingly, Vermont is also being recognized globally as the home to award-winning distilleries. Both science and flavor pairing artistry go into the creation of the distilled beverages you'll enjoy tasting at Saxtons River Distillery in Brattleboro, VT. Their VT Sapling Maple Liquor is smooth and subtly sweet and can be enjoyed neat, as an addition to your coffee or in a variety of cocktails. Their Sapling Maple Bourbon is meant to be sipped and enjoyed or used as the star of any drink in need of a well-balanced bourbon whiskey. And old fashioned rye whiskey is made new with the addition of maple in their Sapling Maple Rye. You'll be creatively inspired to create cocktails that introduce a little heat and spice to work with the natural sweetness of the maple in their hand-crafted distilled spirits.
Vermont maple is deliciously sweet all on its own, but combined with chocolate made from the family recipes of Bob and Martha Pollack of Snowflake Chocolates in Jericho, VT and you have a flavor experience you'll want to savor. Whether it's their Vermont Maple Caramels, Vermont Maple Creams, or Maple Walnut Turtles, you'll be treated to the exceptional flavors borne from the care that goes into each small-batch production of fine chocolate. Visit their retail store in Jericho where they make all their candy on-site and use only pure Vermont maple syrup provided by local sugarmakers, Bob and Chris White.
For an experience like no other, visit Stowe Bowl in Stowe, VT. Forget anything you've ever associated with your experience at a bowling alley other than extreme fun. The décor is more reminiscent of an upscale yet comfortable lounge, while the dining experience is the antithesis of greasy pizza and cheap beer. One of their signature desserts is their Vermont Maple Ice Cheesecake, featuring Boyden Valley Vermont Ice Maple Crème. Count on fun times and great food.
You can follow the scenic route to Boyden Valley Winery & Spirits located in Cambridge, VT and taste their creative uses for maple across their product lines. They have a sugarhouse at the farm where they produce the maple syrup that goes into their Vermont Maple Reserve Wine, Vermont Ice Maple Crème, and of course their own Bourbon Barrel Aged Maple Syrup. Visit their Tasting Room in the Carriage Barn built in 1875. They're open daily from 10am-5pm and offer tours of their tank and barrel rooms twice daily at 11:30am and 1:00pm.
Travel Vermont and experience for yourself the versatility of maple syrup as showcased by a variety of Vermont businesses all dedicated to providing top-quality products using locally sourced and harvested ingredients.
Next Blog Post
According to the internet experts, a proper Shepherd's Pie should contain only lamb within the hearty meat stew at the base of the dish. Those same experts dictate that a similar dish, meat stew topped…