Green Machines: How new technology is changing the maple syrup industry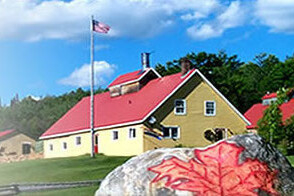 Finding efficiencies in our work
Did you see VMSMA members Glenn and Ruth Goodrich from Goodrich's Maple Farm on a WCAX morning news spot? We love seeing members in the news a they share their best practices with the greater Vermont community. Click here to read the full article and see the Goodrich's in action
EDEN, Vt. (WCAX) - Last year was a record-breaking year for the maple industry in Vermont, producing 2.5 million gallons of syrup, a bit more than half of the production in the United States. And what could be more Vermont than the maple industry going green? High-Brix reverse osmosis machines that help efficiently produce maple were rolled out in 2018. Since then, Efficiency Vermont said more and more have been put into operation.
These days, the operations at Goodrich's Maple Farm in Eden look a bit different than when they began in the 1700s. The farm is home to 6,000 acres with up to 150,000 trees to tap. It's also where Glenn Goodrich said they would be consuming 250,000 gallons of fuel if not for their High-Brix reverse osmosis machines, which bring fuel oil consumption down to 10,000 to 12,000 gallons.
"We get the same nice maple flavor as nearly 200 years ago and we can do it in an efficient and responsible way," said Goodrich.
Goodrich bought the first machine in 2018 and since then has purchased three more, costing hundreds of thousands of dollars apiece. But the more machines they have, the more trees they're able to tap. That's a huge advantage for their staff of five. "We've invested more money, so we're still waiting -- that's the nature of agriculture. We set out on this venture to tap as many as 150,000 trees, and we're getting close. We're 120,000 on this site," said Goodrich. He also says it helps with production. The machine raises the sugar content in sap quicker so they don't have to boil for as long.
Next Blog Post
EAST BERKSHIRE, Vt. (WCAX) - The warm weather this week -- combined with freezing nights -- has many local sugarmakers busy. It comes as some producers are looking to become certified as part of a new…