Maple Bacon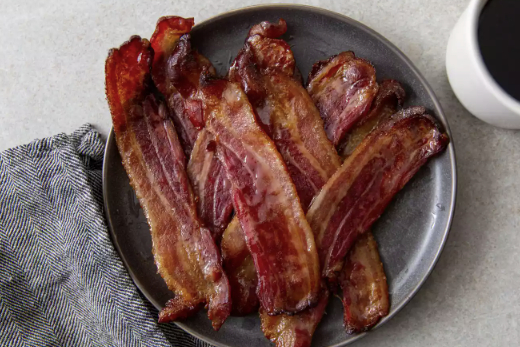 This bacon is so easy to make and takes breakfast treats to a whole new level! Be sure to line the baking pan with foil so you won't have a baked-on mess that's difficult to clean. If you want to spice the bacon strips up a bit, sprinkle them lightly with some cinnamon sugar just before baking.
Ingredients
12 to 16 ounces thick-sliced bacon
4 tablespoons brown sugar
2 tablespoons pure Vermont maple syrup
Preheat the oven to 350 F.
Line a rimmed sheet pan with foil. The pan should be large enough to hold a large cake cooling rack. Place a large cooling rack in the pan and brush a little vegetable oil over the rack. Or spray the rack with vegetable oil cooking spray.
Lay the bacon strips over the rack, overlapping slightly if necessary.

Combine the brown sugar and maple syrup in a bowl or small saucepan. Heat just until warm (stovetop or microwave). Brush the warmed sugar mixture over the bacon strips.

Bake the bacon in the preheated oven for about 30 to 35 minutes, or until nicely browned and slightly crisp.
Next Recipe
Recipe from JoyFoodSunshine Ingredients: 1/4 cup extra virgin olive oil1/4 cup balsamic vinegar2 Tbsp Vermont maple syrup½ Tbsp honey mustard or dijon mustardpinch of sea salt Whisk all ingredients…