2023 Maple Ambassadors - Apply Now!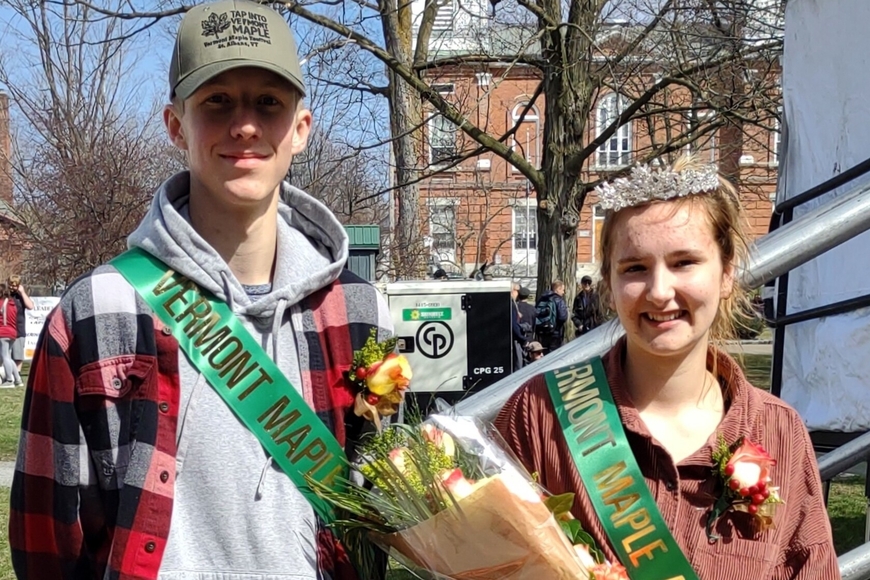 Vermont Maple Sugar Makers' Association, Vermont Maple Festival, and the Franklin County Maple Sugarmakers Association are looking for candidates for Vermont Maple Ambassadors. Candidates will be interviewed in person on Saturday, April 29th and participants will be asked to attend events for 2023-2024.
Two individuals will be chosen to represent the Vermont Maple industry at functions throughout Vermont and New England for one year. A $2,500 scholarship will be awarded to each recipient. This Scholarship competition is open to any Vermont student ages 16-21. The candidate does not have to come from a sugaring family but they must have knowledge and experience about maple sugaring. The Vermont Maple Ambassadors promote, publicize and educate the public with their maple knowledge. They take part in Fairs, Festivals, Field Days, and are in attendance at most significant events where maple is a part of the occasion. The Vermont Building at the Eastern States Exposition in Springfield, Massachusetts is one of the places where the Maple Ambassador will frequently play host and hostess.
To apply, visit: https://www.vtmaplefestival.org/_files/ugd/d0a5af_b74faf124465419398af9661e4303b1a.pdf
Applications due April 12th!
Next Blog Post
MONTPELIER, Vt. (WCAX) - Some Vermont farms that grow specialty foods are getting a funding boost. The Agency of Agriculture, Food and Markets says specialty foods can be honey, maple, hops, mushrooms…