Maple Bourbon Chipotle Chicken Wings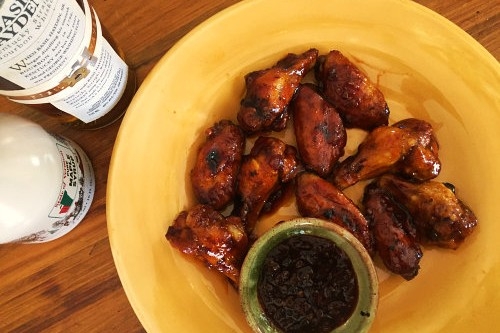 For spice rub:
2 tsp olive oil to coat wings
1/8 teaspoon sea salt
1/8 teaspoon black pepper
1/8 teaspoon chipotle powder
½ teaspoon garlic powder
1 teaspoon smoked paprika
1 ½ teaspoons maple sugar
For sauce:
6 slices of bacon (cut into 1 inch pieces)
4 cloves minced garlic
1 tablespoon grated shallot
2 teaspoons chipotle chilies minced (from can of chipotles in adobo sauce)
1 tablespoon cider vinegar
2 tablespoons tomato paste
¼ cup bourbon
½ cup maple syrup
Preheat oven to 350. Place chicken wings in a large bowl and drizzle with oil to coat. Whisk together all dry ingredients from spice rub in a small bowl. Add spice rub to chicken, using your hands to coat wings evenly. Let rest for 15-20 minutes. Prepare a pan for the oven by lining with foil (for easy clean-up), and placing a wire rack in the pan. Place chicken wings skin side down in single layer on rack, and bake for 40 minutes in center of oven, turning wings over after 20 minutes. Turn over once more and broil for 4-5 minutes for crispy skin.
While wings are baking, prepare the sauce. Cook bacon in a sauce pan over medium heat until lightly browned then remove from pan. Add garlic and shallots to pan and cook for 2 minutes or until softened. Add chilies and cook for 2 more minutes. Add remaining sauce ingredients and return bacon to the pan. Bring to a boil, then turn heat down to a simmer for 15 minutes to combine the flavors. Set aside. When wings are done, cover with sauce and provide extra sauce for dipping.
Next Recipe
Three Vermont Maple ingredients are all you need for this grown-up float.