Maple Sweetened Peanut Butter Chocolate Chip Cookies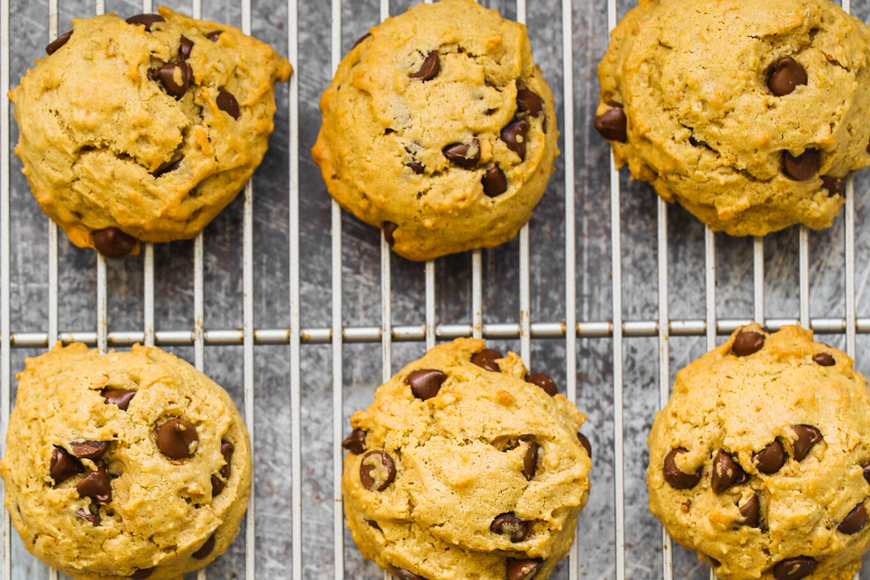 Recipe from Healthy Happy Life
Ingredients:
Wet:
1/3 cup peanut butter, creamy**
1/2 cup vegan butter
1/4 cup silken tofu, or a flax egg
1/2 cup maple syrup, + 2 Tbsp
1 tbsp vanilla extract
Dry:
1/8 tsp cinnamon, optional
1/4 tsp baking soda
1/4 tsp salt
1 2/3 cups all purpose flour
Fold in:
1/3 cup rolled or quick oats
1 cup vegan chocolate chips
Instructions:
1) Preheat oven to 350 degrees and line a baking sheet with parchment paper.
2) Add the wet ingredients to a large mixing bowl and beat until combined. It's ok if the mixture is not perfectly smooth at this point. TIP: If you use tofu instead of the flax egg, you may want to add a step and blend the wet ingredients to make sure the tofu smoothes out.
3) Add the dry ingredients to the wet bowl.
4) Beat until smooth and fluffy.
5) Fold in the oats and chips.
6) You can either chill the dough for an hour or so – or bake right away. I like chilled dough cookies, they stay a bit more dense, but this batter is also ready to go as is! Scoop dough onto the baking sheet(s).
7) Bake at 350 for 12-14 minutes. Edges should be very light golden brown.
8) Remove baking sheet from the oven and transfer cookies to a cooling rack. Serve after at least a few minutes of cooling.
9) Storage: If stored in a sealed bag, these cookies will get very soft and cake-like from moisture. I actually like them stored uncovered, so that they retain their natural complex texture. A light paper towel draped over top the plate of cookies works – store in fridge if keeping for over a day.
**PEANUT BUTTER: Choose a peanut butter than is nice and oily, soft and spoonable. If your peanut butter is on the dry side, your cookies will be too.
Next Recipe
Recipe from Mommy Potamus Ingredients: 12-14 oz tomato paste1/3 cup maple syrup (to taste)7 ½ tbsp apple cider vinegar2 tbsp onion powder1 tsp unrefined sea salt Instructions:  1) Place all ingredients…