Maple Trout with Salt-Pickled Cranberries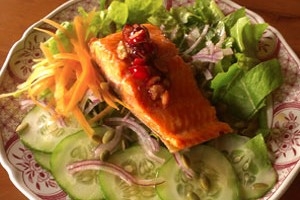 Yields 2 servings.
1 cup water
1/4 cup pure Vermont maple syrup
1/4 cup apple cider vinegar
1 tablespoon salt
1 teaspoon chipotlé puree*
1 pound trout fillet
In medium saucepan, bring first four ingredients to a simmer, stirring to dissolve salt. Let cool.
In a glass baking dish or other nonreactive dish, place trout skin side up. Pour brine over fish and gently lift each edge to thoroughly coat. Cover with foil and refrigerate for one hour or up to 2 hours.
Preheat oven to 425°F. Drain the trout, wipe out dish, and place trout back in pan, skin side down this time. Roast for 6-8 minutes or until fish is just starting to flake.
Broil fish on high for about 30 seconds to 1 minute, just until top of fish starts to brown. Serve with the salt-pickled cranberries (recipe below).
Salt-pickled Cranberries
1/2 cup fresh cranberries, chopped
2 tablespoons granulated maple sugar (click to learn more about granulated maple sugar)
2 teaspoons kosher salt
Combine cranberries, maple sugar, and salt in a bowl. Stir thoroughly to mix and let sit 30 minutes before serving.
*Chipotlé puree is made by pureeing canned chipotlé peppers in adobo sauce. The puree can be left in the refrigerator for up to a month and provides a great spicy-smoky flavor to dishes, especially chili and stews.
Next Recipe
Summer's bounty of fruit meets up with pure maple sugar to make a delicious crisp.