Maple Whoopie Pies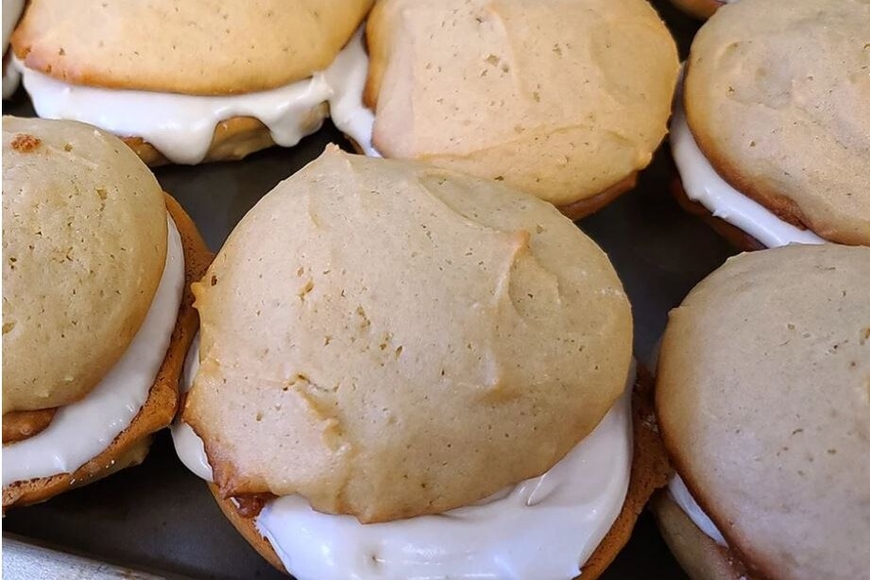 This recipe comes to us from the folks at Carman Brook Farm in Swanton, Vermont. We made these whoopie pies recently for a birthday party and they were like a present and dessert all in one package! This recipe makes about 12 whoopie pies.
Ingredients for the cakes:
3/4 cup shortening or butter
1/2 cup sugar
2 eggs
1 cup milk
1 cup pure Vermont maple syrup, preferably a darker grade
2 tsp vanilla
4 1/2 cups all-purpose flour
2 1/2 tsp baking powder
2 tsp salt
Directions to make the cakes:
Preheat oven to 375 degrees.
Cream together shortening, sugar and eggs.
Combine milk, maple syrup, and vanilla in a large measuring cup.
Combine dry ingredients and toss to mix.
Add the maple syrup mixture and the dry ingredients alternately and mix until fully incorporated.
Drop large spoonful's on lightly greased baking sheets or use parchment paper.
Bake 375 degrees for 10-12 minutes and cool on a rack before frosting.
Ingredients for the filling:
1 1/2 cups pure Vermont maple cream (Buy a 1 lb container and store the leftovers in the fridge. They won't last long!)
1 1/2 cups marshmallow fluff
1 1/2 cups powdered sugar
1/4 cup butter
Directions to make the cakes:
Combine all ingredients and mix thorougly (easiest to do with a stand mixer and the paddle attachment, or an electric hand mixer)
Generously frost one cake and top it with another.
Store in the fridge and enjoy!
Next Recipe
The days are getting longer, get your energy from Maple and head to the woods!  Sometimes you really just need a snack that has some serious staying power. Only five ingredients for a flavorful and healthy…