Roast Lemon Maple Chicken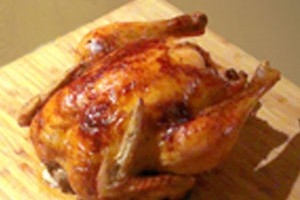 Yields 4 to 6 servings.
One 4 pound chicken
2 lemons, one quartered and one for juicing
6 cloves of garlic, peeled and halved
1 small onion, quartered
2 tablespoons pure Vermont maple syrup
3 tablespoons extra virgin olive oil
Salt and pepper to taste
Preheat oven to 375 degrees. Peel one of the lemons, removing long, thick strips of zest. Reserve the zest and juice the lemon into a bowl. Combine the maple syrup and olive oil into the bowl and whisk to combine. Rub the chicken all over with the lemon zest and the garlic. Place the quartered lemon, onion, garlic, and lemon zest in the cavity of the chicken. Brush withe lemon juice-maple mixture and sprinkle with salt and pepper.
Place chicken in roasting pan and place in oven. After 30 minutes, brush more of the lemon-maple mixture over the chicken and again after another 30 minutes. Continue roasting for an additional 20 minutes or until the juices run clear when cut between the thigh and the body. Let rest for ten minutes.
Serve and enjoy!
Next Recipe
Smoky bacon balances sweet carrots and nutty Brussels sprouts; Vermont maple syrup ties all the flavors together to make this a quick and easy autumn side dish that will be a favorite in your kitchen too!