Butternut Squash Soup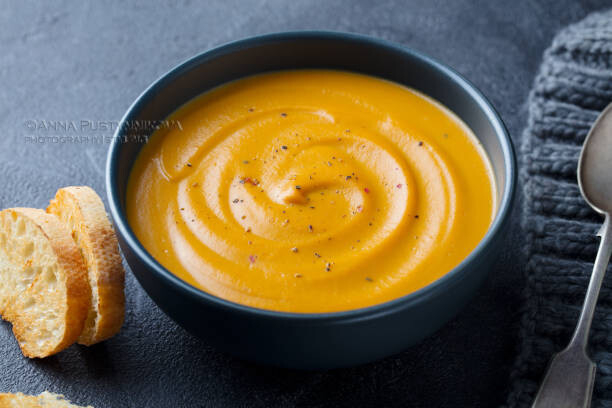 Recipe from Vermont sugar maker Andy Aldrich of Aldrich Maple Farm.
Serves 12-16
2 lbs butternut squash
1 Tbsp salt
1/2 cup celery, diced
1/2 cup onion, chopped
1/2 cup bell pepper, diced
1/2 cup butter, divided
1/4 cup white wine (or substitute broth)
1 tsp dried tarragon
1/2 tsp cinnamon
1/4 tsp cloves
4 cups chicken stock (or vegetable stock)
1/4 cup flour
1/2 cup pure Vermont maple syrup
1/4 cup sherry (can substitute apple cider)
Peel and chop butternut squash. Bring a large pot of water to a boil, add the salt and the butternut squash. Simmer covered for 40 minutes, or until tender. Drain squash, but reserve 2 cups of the cooking liquid. Set the reserve liquid and cooked squash aside. In that same pot (now empty), melt 1/4 cup of the butter and then add celery, onion, pepper, and white wine. Saute for about 5 minutes. Add tarragon, cinnamon, cloves, stock and 1 cup of reserved liquid and bring to a boil. In a small saucepan, melt the remaining 1/4 cup of butter and whisk in flour; add this to the pot. Add squash and remaining 1 cup of reserved liquid. Using an immersion blender, puree the mixture in the pot. Cook on low heat for about 5 minutes, stirring often. Add the maple syrup and sherry and continue to cook and stir until hot. Serve with any garnishes you like and enjoy!
Next Recipe
Made with pork and maple syrup, this shepherd's pie takes some ingredient liberties to make an incredible version of the beloved comfort food.