Sesame Noodles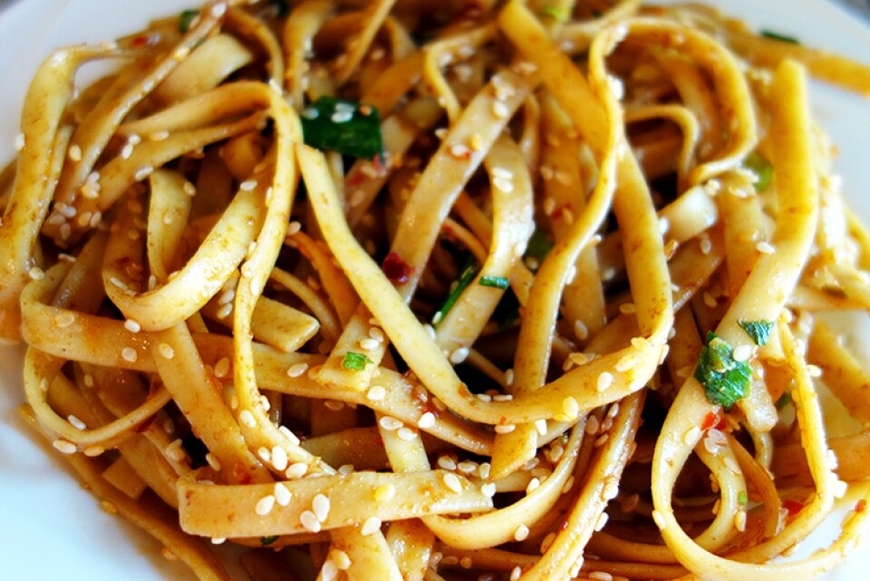 Recipe from City Market, Burlington VT
Ingredients:
1 lb fettucine
2 Tbsp sesame oil
2 tsp sriracha
2 Tbsp tamari soy sauce
2 Tbsp balsamic vinegar
1 Tbsp maple syrup
salt, to taste
1/2 cup chopped scallions
2 Tbsp toasted sesame seeds
Instructions:
Cook pasta in rapidly boiling water according to package directions. Once pasta is completely cooked, strain then rinse. While the pasta is cooking, blend sesame oil, sriracha, tamari soy sauce, balsamic vinegar, maple syrup and salt in mixing bowl. Once the pasta is rinsed and the sauce is completely mixed, pour sauce mix over noodles and mix well.
Let noodles and sauce cool in refrigerator, tossing occasionally to help cooling process. Once the noodles are cold, add scallions and sesame seeds. Note: adding the scallions when the noodles are warm will cook the onions.
Next Recipe
Recipe by Elena Palermo from City Market, Burlington VT Ingredients:6 bananas, very ripe4 cups rolled oats1/3 cup maple syrup1/3 cup smooth peanut butter1/2 tsp vanilla extract1 tsp baking soda1 tsp baking…