Spicy Maple Turkey Burgers with Maple Pickled Red Onion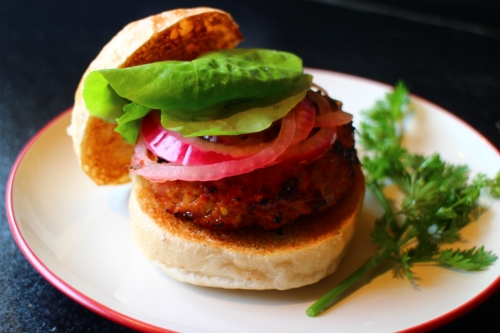 Maple Pickled Red Onions:
1 large red onion, sliced thin
1 1/4 cup cider vinegar
1/2 cup water
1/4 cup maple syrup
1/2 teaspoon crushed red pepper
1/4 teaspoon salt
Spicy Maple Turkey Burger:
Makes 4 burgers
1 1/2 lbs ground turkey
2/3 cup shredded carrot
2 Tablespoons yellow onion
1/2 Tablespoon minced garlic
2 Tablespoons siracha
2 Tablespoons maple syrup
2 teaspoons salt
1 teaspoon pepper
Place onions in colander and pour 2 cups of boiling water over them. Let cool and place in quart jar. Heat remaining ingredients to a simmer and pour over onions. Let sit for one hour or up to several days.
Combine all ingredients for turkey burger in a medium bowl. Form 4 equal-sized patties. Preheat grill to medium-high heat. Lightly oil grill grate. Cook for 20 minutes turning once. Internal temperature should reach 165°. Place on grilled bun, add lettuce and pickled onions and any additional toppings of your choice. We like cilantro and avocado.
Next Recipe
Vibrant colors and garden-fresh flavors make this slaw a summer hit!