Apple Crepes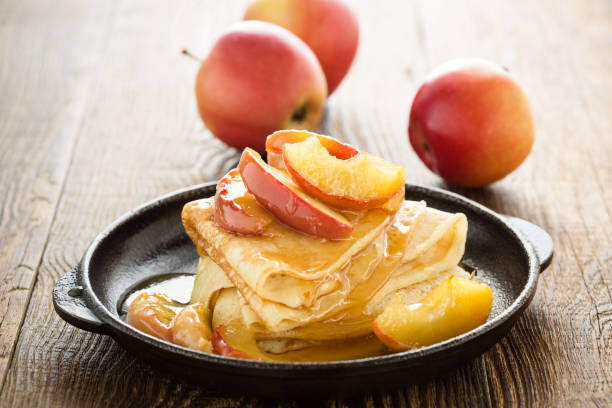 Recipe from Vermont sugar maker Andy Aldrich of Aldrich Maple Farm.
Makes 12 crepes
Filling
9 granny smith apples, peeled, cored and chopped large (or substitute your favorite local variety of apple)
6 Tbsp butter
1 1/3 cups brown sugar
1/2 cup raisins (optional)
grated orange peel, from 2 oranges
1/4 cup pure Vermont maple syrup
cornstarch, as needed to thicken filling
Crepes
4 eggs
3 cups milk
2/3 tsp salt
2 cups flour
4 Tbsp butter, melted
Toppings
warm pure Vermont maple syrup
Vermont whipped cream
For the crepes: Mix all ingredients in a blender or whisk until no lumps remain and all ingredients are incorporated. Let rest for 30 minutes, while you make the filling. Cook crepes individually in a crepe pan (or your favorite pan that is either very well seasoned or non-stick).
For the filling: Melt the butter in a skillet over medium heat; when it starts to bubble, add the brown sugar and maple syrup and stir until everything is thoroughly mixed in and the mixture starts to bubble. Add the apples in a single layer, turn the heat up to medium-high and cook the apples until about half of the liquid (including what the apples release) has evaporated. Add the raisins and the grated orange peel and continue to cook until most of the liquid has evaporated and you're left with a thick syrup. Add a very small amount of cornstarch if you need, to thicken the sauce. When the sauce is caramelized and the apples are still a little firm, transfer the mixture to a bowl.
To assemble: Divide the filling among the 12 crepes (reserving some to top the crepes, if you like). Roll up or fold crepes and drizzle with warm pure Vermont maple syrup and top with Vermont whipped cream. Enjoy!
Next Recipe
A seasonal favorite that uses the flavors of fall, including butternut squash, warming spices and maple syrup.