Berry Rhubarb Pops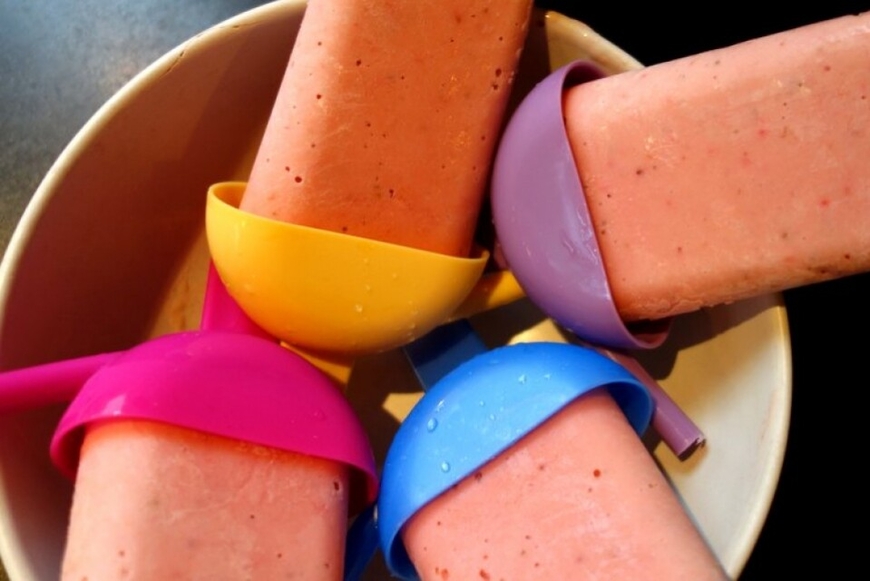 Recipe from City Market, Burlington VT
Ingredients:
2 cups rhubarb
2 cups strawberries
1 1/2 cups yogurt
1/2 cup maple syrup (or more, to taste)
Instructions:
Wash the rhubarb stalks and discard the leaves (they are mildly poisonous). Peel the stringy outside of the stalks, and roughly chop up 2 cups. Place in a small pot with just enough water to cover the bottom and bring to a boil. Simmer for 15-20 minutes, until soft, then remove from heat. Strain any excess liquid and let cool.
Measure and mix the strawberries, yogurt, and cooled rhubarb in a blender. Blend until smooth, then add the maple syrup. Taste and adjust sweetness to your preference.
Pour into popsicle molds, attach the tops, and place in the freezer overnight to enjoy the next day.
Variation: Try adding a small handful of fresh mint leaves or other summery flavors to the mixture before blending.
Next Recipe
Recipe from StrongerTogether.coop Ingredients: Vegetable oil (spray)2 cups rolled oats1/2 cup chopped walnuts (optional)1 banana (peeled and sliced)2 cups almond milk1/2 cup maple syrup2 tsp vanilla…