Fruit & Custard Summer Tart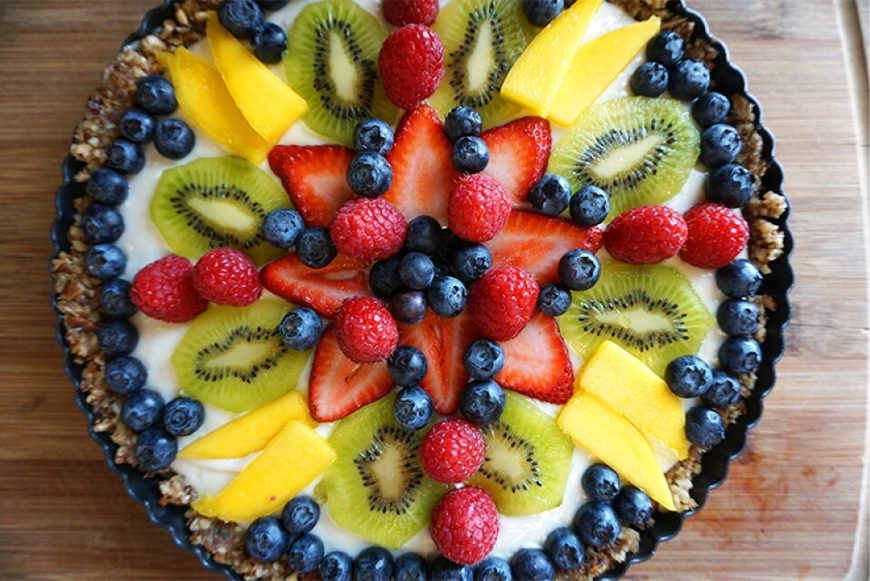 Recipe from City Market, Burlington VT
Ingredients:
1 cup pecans
1 cup almonds
4 medjool dates, pits removed
2 Tbsp unsalted butter
pinch of salt
1 package vanilla pudding mix
1 egg yolk
4 ounces cream cheese
1 Tbsp maple syrup
lemon zest (optional)
blueberries or a mix of assorted sliced fruit (strawberries, kiwi, mango, raspberries)
Instructions:
Lightly toast pecans and almonds in a dry skillet over medium heat until fragrant. Add the nuts to a food processor with the dates, butter, and salt and blend until all the ingredients are incorporated together evenly and the nuts are broken down. The mixture won't be perfectly smooth, but you want the nut pieces to be uniform. Press the mixture into a springform tart pan or pie pan, taking care to make sure to cover the bottom and sides of the pan with no holes. Press firmly into place and refrigerate until ready to use in your favorite recipe.
For the filling:
Cook vanilla pudding according to package instructions, adding 1 egg yolk to the process for a thicker custard. Chill in fridge to thicken. When chilled, add cream cheese, maple syrup, and lemon zest, if using, and mix vigorously until smooth.
To assemble:
Pour mixture into the crust and spread evenly. If the filling is not very firm, set in freezer for 30 minutes to 1 hour. When set and firm, assemble sliced fruit on top and serve immediately.
Next Recipe
Recipe from City Market, Burlington VT Ingredients: 1 lb fettucine2 Tbsp sesame oil2 tsp sriracha2 Tbsp tamari soy sauce2 Tbsp balsamic vinegar1 Tbsp maple syrupsalt, to taste1/2 cup chopped scallions2…