Lentil Salad with Spring Veggies & Herbs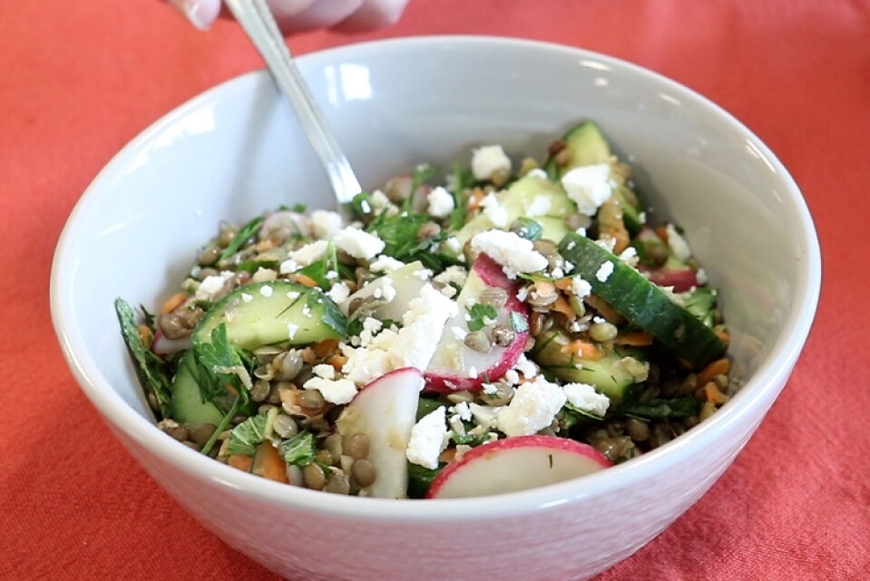 Recipe from City Market, Burlington VT
Ingredients:
2 cups dried green French lentils
2 cloves garlic, smashed
2 Tbsp olive oil
1/4 cup lemon juice

Dressing:
2 Tbsp olive oil
1 tsp Dijon mustard
1 tsp maple syrup
2 cloves garlic, pressed or minced
1/4 tsp salt
freshly ground black pepper, to taste
1 European cucumber, sliced into half moons
1 bunch radishes, thinly sliced
2 carrots, grated
1/2 cup fresh herbs (combination of flat leaf parsley, mint and dill recommended)
1 bunch radishes, thinly sliced2 carrots, grated
crumbled feta cheese (optional)
Instructions:
Combine lentils, oil, garlic cloves, and water in a saucepan. Bring to a boil and reduce to a simmer, simmering until lentils are tender, 15-25 minutes. Strain and set aside to cool slightly.
Meanwhile, combine dressing ingredients in a bowl and whisk thoroughly. Toss cooked lentils with dressing, veggies, herbs, and optional feta.
Next Recipe
Recipe from City Market, Burlington VT Ingredients: 1 cup pecans1 cup almonds4 medjool dates, pits removed2 Tbsp unsalted butterpinch of salt1 package vanilla pudding mix1 egg yolk4 ounces cream cheese1…