Maple Bourbon Mashed Sweet Potatoes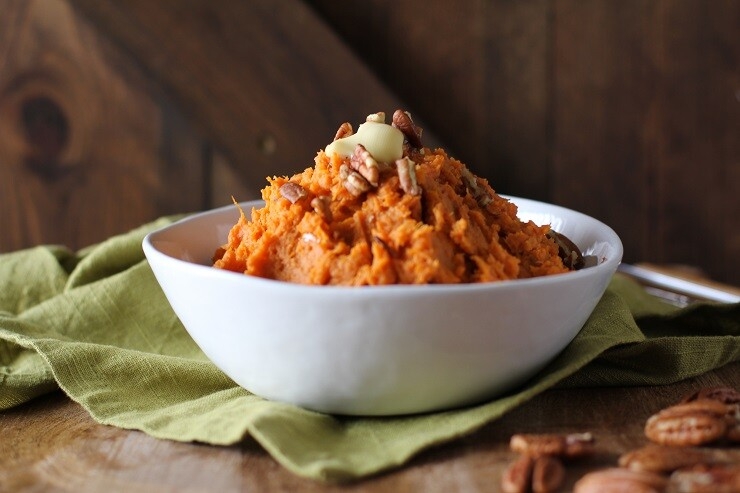 Recipe from The Roasted Root
Ingredients:
2 large sweet potatoes (4 cups mashed)
3 tablespoons salted butter melted
¼ cup pure maple syrup
3 tablespoons bourbon whisky
Zest of 1 orange
1 teaspoon ground cinnamon
¼ teaspoon ground cardamom
1 teaspoon kosher salt or to taste

Instructions:
1) Preheat oven to 400 degrees F.
2) Wash the sweet potatoes and pat them dry. Poke several holes in each potato with a fork and wrap them in foil. Place potatoes on the center wrack of your oven and roast until very soft and juices are seeping out, about 60 to 90 minutes.
3) Remove potatoes from the oven and allow them to cool enough to handle.
4) Peel the skin off of the potatoes (it should come off easily using your hands), and place the flesh in a medium-sized mixing bowl.
5) Add the remaining ingredients to the bowl and mash everything together until well combined.
6) If necessary, heat the potatoes back up on the stove top before serving.
7) Serve with butter and chopped pecans.
Next Recipe
Recipe from Owl B Baking Ingredients: 5 c of torn up croissant pieces (stale or baked, see notes)5 c of cubed bread (stale or baked, see notes)½ c granulated sugar1 c light brown sugar1 ½ tsp ground…