Pumpkin Bread Pudding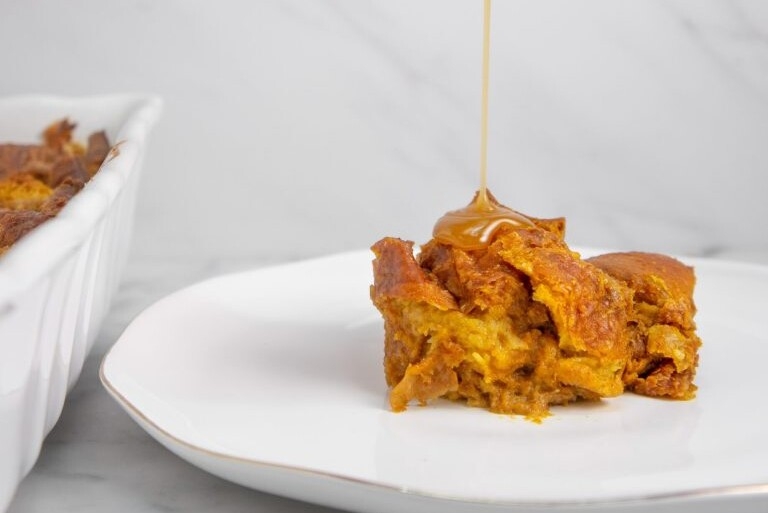 Recipe from Owl B Baking
Ingredients:
5 c of torn up croissant pieces (stale or baked, see notes)
5 c of cubed bread (stale or baked, see notes)
½ c granulated sugar
1 c light brown sugar
1 ½ tsp ground cinnamon (I prefer Ceylon Cinnamon)
1 tsp ground ginger
¼ tsp ground cloves
¼ tsp ground nutmeg
¼ tsp ground cardamom (optional)
½ tsp salt
15 oz pumpkin puree, canned or fresh
1 ½ c whole milk
2 c heavy cream
3 eggs
3 tsp vanilla extract

MAPLE CARAMEL SAUCE
½ c butter (salted or unsalted works)
½ c pure maple syrup
½ c light brown sugar
½ c heavy cream
1 tbsp vanilla extract
Instructions:

1) Spray a 9×13 baking dish with cooking spray, or lightly grease it with butter.
2) Place croissants and bread into the pan, ensuring there is equal distribution; set aside.
3) In a large bowl, whisk together the sugars, spices & salt until combined. Add the pumpkin and whisk until incorporated.
4) Add the milk and cream to the sugar/pumpkin mixture. Slowly and carefully whisk it in as it has a tendency to splatter!
5) Whisk in the eggs until combined and then stir in the vanilla.
6) Give the mixture one final stir with a spatula, moving it along the bottom and sides of the bowl to ensure all ingredients are fully incorporated.
7) Pour the custard into the baking dish, over the bread pieces.
8) Using your spatula, gently squish down the bread until each piece is covered or at least soaked with the custard (any dry bits will burn in the oven).
9) Cover with plastic wrap and chill in the fridge for 1 hour.
10) Preheat the oven to 350°.
11) Bake uncovered for 40-50 minutes until browned and fully set. If it browns too quickly, you can tent some aluminum foil on the top during the final stretch of baking. Insert a knife and if it comes out clean (wetness is still OK), it's done.
12) Place on a cooling rack and allow to cool. This can be served warm or chilled.
13) While bread pudding cools, prepare the Maple Caramel sauce.
FOR THE MAPLE CARAMEL SAUCE
1) In a medium sauce pan over low/medium heat, add the butter, syrup, sugar and cream. Bring to a medium boil and cook, stirring frequently for 6-8 minutes or until the mixture thickens. Remove from the heat and allow it to cool slightly. Then stir in the vanilla extract.
2) Store any leftover caramel sauce in the fridge and reheat as needed.

Next Recipe
Recipe from Self Proclaimed Foodie  Ingredients:2 cups apple cider1/4 cup bourbon whiskey2 tablespoons maple syrup1 tablespoon lemon juice Instuctions: 1) In a medium size saucepot over low heat, or…