Maple Cinnamon Roasted Sweet Potatoes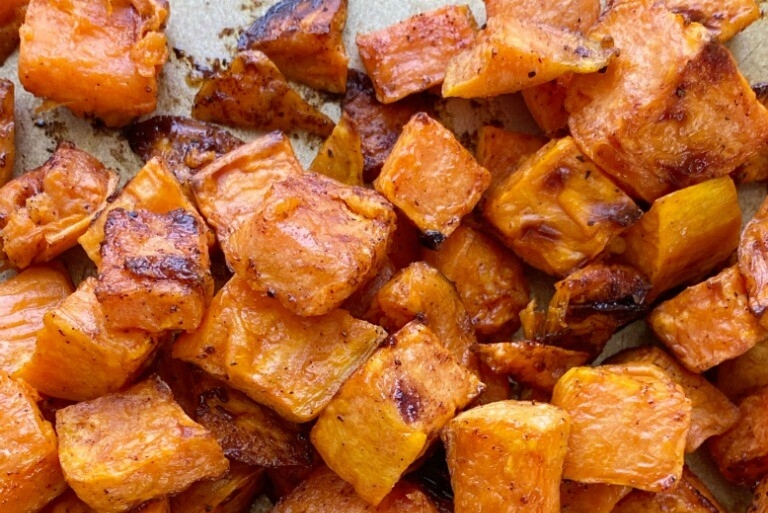 Recipe from Together as Family
Ingredients:
3 cups chopped & peeled sweet potatoes about 2 large sweet potatoes, chopped into larger bite-sized pieces (1 inch)
2 tablespoons extra-virgin olive oil
2 tablespoons pure maple syrup NOT pancake syrup
½ teaspoon salt
¼ teaspoon pepper
¼ teaspoon nutmeg
¼ teaspoon cinnamon
Instructions:
1) Heat oven to 425°. Prepare a cookie sheet by lining with parchment paper or tin foil, and spray it with cooking spray. You could also just spray the cookie sheet with cooking spray too.
* Make sure the cookie sheet you are using has sides on it.
2) Combine the chopped sweet potatoes, olive oil, maple syrup, salt, pepper, cinnamon, and nutmeg in a mixing bowl. Stir together until all the potatoes are coated.
3) Dump onto the prepare cookie sheet, spreading out the potatoes to ensure that none are touching, and bake for 15-20 minutes. Stir the potatoes half way through cooking time.
4) Serve immediately.

Next Recipe
Recipe from The Roasted Root Ingredients:2 large sweet potatoes (4 cups mashed)3 tablespoons salted butter melted¼ cup pure maple syrup3 tablespoons bourbon whiskyZest of 1 orange1 teaspoon ground cinnamon¼…