Roast Cauliflower with Maple Glaze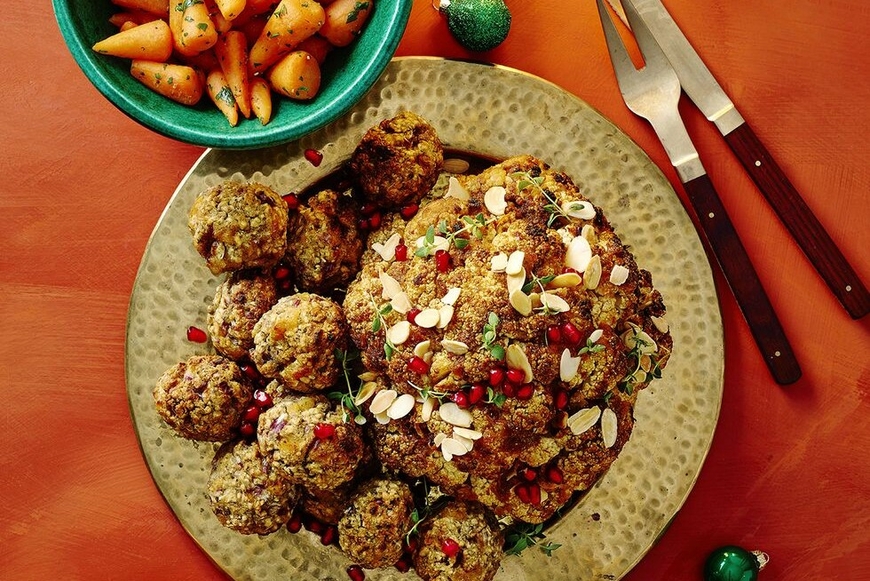 Here's a bright and flavorful centerpiece for the holiday table. Moroccan spiced whole roast cauliflower with a sticky cinnamon maple glaze and apricot stuffing!
Ingredients:
6oz sage and onion stuffing mix
1/2 red onion
5oz dried apricots
2 tbsp. olive oil, plus extra to grease
1 lemon (finely grated zest and juice)
1/2 orange (finely grated zest and juice)
1 tbsp. ground cumin
1 tbsp. ground coriander
1 1/2 tsp. cinnamon
1 tbsp. smoked paprika
3 sprigs of thyme
1 large cauliflower
2 tbsp. maple syrup
.5oz flaked almonds
2 tbsp. pomegranate seeds
For the dressing, optional
50 g dairy-free yoghurt
1 tbsp. tahini
1 tsp. lemon juice

Directions
Preheat the oven to 400°
In a large bowl, make the stuffing according to packet instructions, then stir in the onion and dried apricots until evenly distributed. Set aside.

In a small bowl, stir together 1tbsp of the olive oil, the lemon and orange zest and juice, the spices, most of the thyme leaves and plenty of seasoning, to create a spice paste.

Brush a large baking sheet with a little oil. Put the cauliflower onto the tray and brush the spice paste all over. Shape the stuffing into 12 equal-sized balls and arrange on the tray around the cauliflower, spaced apart. Drizzle over the remaining 1tbsp oil. Cover the entire tray with a tent of foil then roast in the oven for 45-50min, until a sharp knife passes through the center of the cauliflower easily.

Increase the oven temperature to 425°
Remove the foil, brush the cauliflower with the maple syrup for extra stickiness and roast for a further 10-15 minutes until golden. Scatter over the almonds for the final 5 minutes of cooking.

If serving with the tahini dressing, mix all the dressing ingredients together in a small bowl with 1tbsp of cold water until combined. Sprinkle the cauliflower with pomegranate seeds and the remaining thyme leaves. Serve in slices with the stuffing and dressing, if using.
Special thanks to Goodhousekeeping.com UK for the recipe!
https://www.goodhousekeeping.com/uk/food/recipes/a42132539/moroccan-spiced-cauliflower-with-a-cinnamon-maple-glaze-and-apricot-stuffing/
Next Recipe
Recipe from bon appetit How to make Chipotle Maple Syrup:In a blender, combine ½ cup pure maple syrup with 2 medium dried chipotle peppers (aim for roughly 3 inches long), add a shake of salt. Blend until…