No Bake Peanut Butter Maple Oatmeal Bars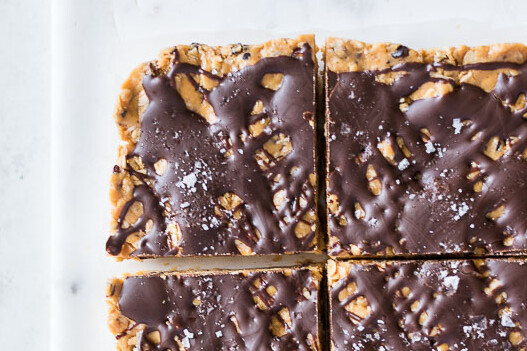 Recipe from Flavor The Moments
Ingredients:
1 cup natural peanut butter
1/3 cup pure maple syrup
1/4 cup cacao nibs (or sub with mini chocolate chips)
1 cup old fashioned rolled oats
1/3 cup dairy free chocolate chips
1 teaspoon coconut oil
sea salt, for sprinkling
Instructions:
1. Line an 8x8" baking dish with parchment paper.
2. Place the peanut butter, maple syrup and cacao nibs in a medium bowl and stir to combine. If the peanut butter is too solid, melt it slightly in the microwave to make it easier to stir.
3. Add the oats and stir until combined.
4. Pour the mixture into the prepared pan and spread evenly.
5. Place the chocolate chips and coconut oil in small microwaveable bowl. Heat for one minute, then stir. Heat another 30 seconds, then stir until smooth.
6. Drizzle the chocolate over the bars, and sprinkle with sea salt, if desired. Chill for a minimum of 3 hours or until set. Cut into bars and enjoy!
Next Recipe
These maple muffins are perfect with a cup of coffee or tea, to start or end your day!