Pumpkin Spice and Everything Nice Salad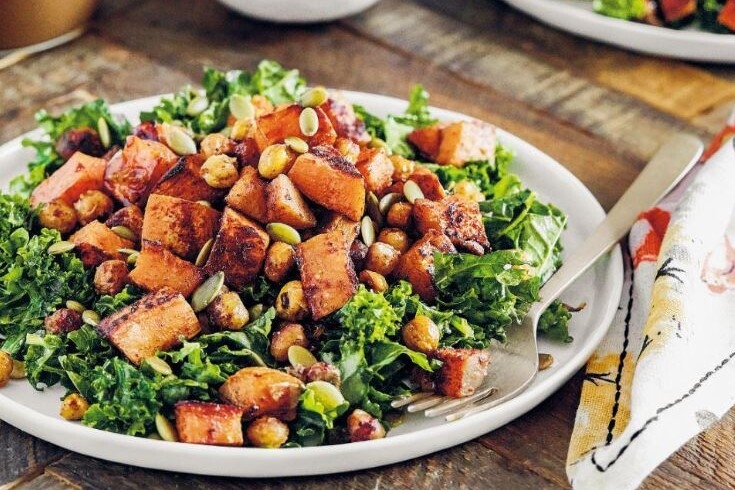 Recipe from Austin360
Ingredients:
For the roasted sweet potato and chickpeas:
3 medium sweet potatoes
1 (14-ounce) can chickpeas, drained and rinsed (1 1/2 cups)
2 tablespoons extra-virgin olive oil
2 tablespoons pure maple syrup
2 teaspoons pumpkin pie spice, homemade or store-bought, plus more for serving
1/2 teaspoon fine sea salt, plus more for serving

For the marinated kale salad:
1 medium bunch curly kale, stemmed and chopped (6 cups)
1 medium garlic clove, finely grated on a Microplane
1 tablespoon extra-virgin olive oil
1 teaspoon pure maple syrup, or to taste
1/4 teaspoon fine sea salt
3 tablespoons fresh lemon juice
1 tablespoon tahini
1/2 cup roasted salted pepitas, for garnish
Instructions:

1) Prepare the roasted sweet potato and chickpeas: Heat the oven to 400 degrees. Line an extra-large baking sheet (or two large baking sheets) with parchment paper.
2) Peel the sweet potatoes and chop them into small 1-inch cubes (you should have about 5 1/2 cups). Place the drained chickpeas and sweet potato on the prepared baking sheet. Drizzle with the oil and toss until thoroughly coated. Drizzle on 1 tablespoon of the maple syrup and toss again to coat. Spread the sweet potatoes and chickpeas into a single layer on the pan. Sprinkle the pumpkin pie spice and salt all over the sweet potatoes and chickpeas.
3) Roast, uncovered, for 32 to 38 minutes, until the sweet potatoes are fork-tender and golden brown on the bottom and the chickpeas are a bit shriveled. I don't flip them or rotate the pan during baking.
4) Meanwhile, prepare the kale salad: Place the kale in a very large bowl. In a small bowl, whisk together the garlic, oil, maple syrup, salt, lemon juice and tahini until smooth. Pour the dressing over the kale and massage it into the leaves with your hands until fully coated. Let the kale marinate in the dressing while the sweet potatoes and chickpeas roast.
5) When the chickpeas and sweet potatoes are finished roasting, remove the baking sheet from the oven and drizzle the remaining 1 tablespoon maple syrup over them. With a spoon, gently toss to coat. Taste and season with more pumpkin pie spice and salt, if desired.
6) Portion the kale into bowls, top with the warm roasted sweet potatoes and chickpeas, and garnish with the roasted pepitas. Serve warm. Serves 4.
Next Recipe
Recipe from Lord Bryon's Kitchen Ingredients: For the Cookies:3 cups quick cook oats1 cup all-purpose flour1/2 teaspoon baking soda1/2 teaspoon salt2 teaspoons pumpkin spice1/4 cup butter, softened1/2…