Pumpkin Spice Maple Glazed Apple Pie Cookies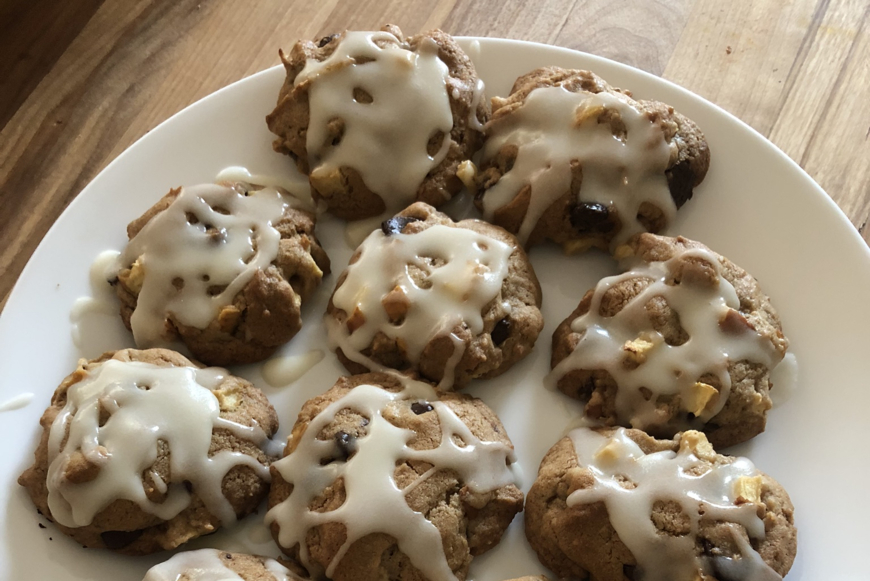 Recipe from Lord Bryon's Kitchen
Ingredients:
For the Cookies:
3 cups quick cook oats
1 cup all-purpose flour
1/2 teaspoon baking soda
1/2 teaspoon salt
2 teaspoons pumpkin spice
1/4 cup butter, softened
1/2 cup apple sauce
3/4 cup brown sugar, lightly packed
3/4 cup white sugar
1 large egg
1 teaspoon vanilla extract
1 cup apple, finely diced
1 cup walnuts, finely chopped

For the Glaze:
2 cups confectioner's sugar
1 tablespoon pumpkin spice
4 tablespoons maple syrup
Instructions:

1) Preheat oven to 350 degrees. Prepare a baking sheet by lining it with a silicone mat or parchment paper. Set aside.
2) Use a hand-held mixer to blend together the butter, applesauce, and both sugars.
3) Blend in the egg and vanillla.
4) Add the oatmeal, flour, baking soda, salt, and pumpkin spice. Blend into the wet mixture until just combined.
5) Add the walnuts and apples. Use a rubber spatula to fold into the cookie dough.
6) Using a 2-tablespoon size cookie scoop, portion out the cookie batter onto the parchment paper. Leave some room between each mound of cookie dough. Using the back of your hand, flatten the cookie slightly.
7) Bake for 14 minutes. Remove from oven and let cool for 2 minutes before transferring cookies to a wire cooling rack to finish cooling.
8) Once completely cooled, whisk together the glaze ingredients in a bowl. Transfer the glaze to a ziploc bag and cut a small hole in the tip. Drizzle the glaze generously over the cookies. Allow cookies to set up/glaze to harden before stacking or storing the finished cookies.

Next Recipe
Recipe from Together as Family Ingredients:3 cups chopped & peeled sweet potatoes about 2 large sweet potatoes, chopped into larger bite-sized pieces (1 inch)2 tablespoons extra-virgin olive oil2 tablespoons…