Strawberry Maple Rhubarb Pie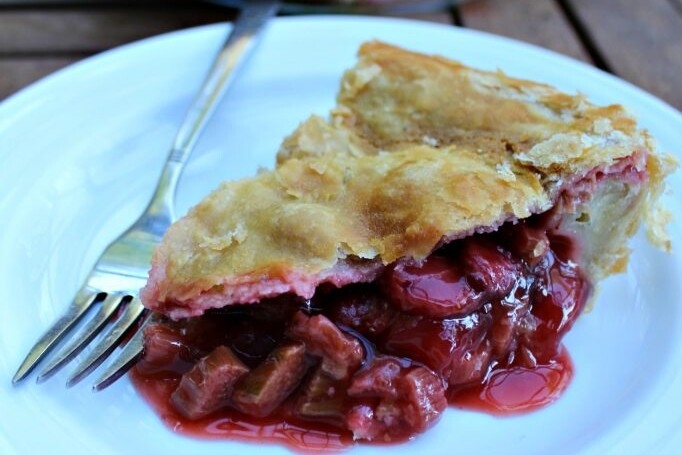 This delicious recipe comes to us from Ashley at Adamant Kitchen. It's the season of strawberries and rhubarb. Our gardens are overflowing with these two summer ingredients. And more importantly, our spring maple crop is just hungry to be baked into a pie!
Ingredients for the pie filling:
4 cups rhubarb, peeled and finely sliced
4 cups strawberries, stems removed and halved
¾ cup tapioca flour
½ cup maple syrup
Maple sweetened pie crust
2 ¼ cups all-purpose flour (or whole wheat pastry)
1 cup butter, cut into cubes
½ tsp salt
6 to 8 Tbs cold water
1 Tbs maple syrup (optional)
Maple and Cream Pie Glaze
1 tsp maple syrup
1 Tbs Heavy Cream (or milk)
Directions to make the pie:
Prepare the pie crust by first mixing the flour and salt, and then cutting the butter into the flour until with a pastry knife or food processor. The butter should be pea-sized or smaller, and the flour and butter mixture will look a bit sandy.
Mix a tablespoon of maple syrup into 6 tablespoons of cold water and add to the flour. Bring the mixture together, adding an additional tablespoon or two of water until the dough forms a ball.

Cut the dough ball in half, flatten into disks and refrigerate 30 minutes to 8 hours. Or, skip refrigeration and just make the pie.
Roll one half of the pie dough out and line a 9-inch pie pan.

Mix the chopped strawberries and peeled and chopped rhubarb in a large bowl, adding in maple syrup and tapioca flour. Pour the fruit mixture into the pie shell.

Roll out the second half of the pie crust and top the pie, sealing the edge and decorating as you choose.
Mix maple syrup and heavy cream, and glaze the top crust with a silicone pastry brush.

Bake for 30 minutes at 425 before turning the oven down to 350 for an additional 30 to 60 minutes. Be sure that the filling is bubbling before removing the pie from the oven. An undercooked filling will not set.

Next Recipe
This recipe comes to us from the folks at Carman Brook Farm in Swanton, Vermont. We made these whoopie pies recently for a birthday party and they were like a present and dessert all in one package! This…