Thick Maple Blueberry Tart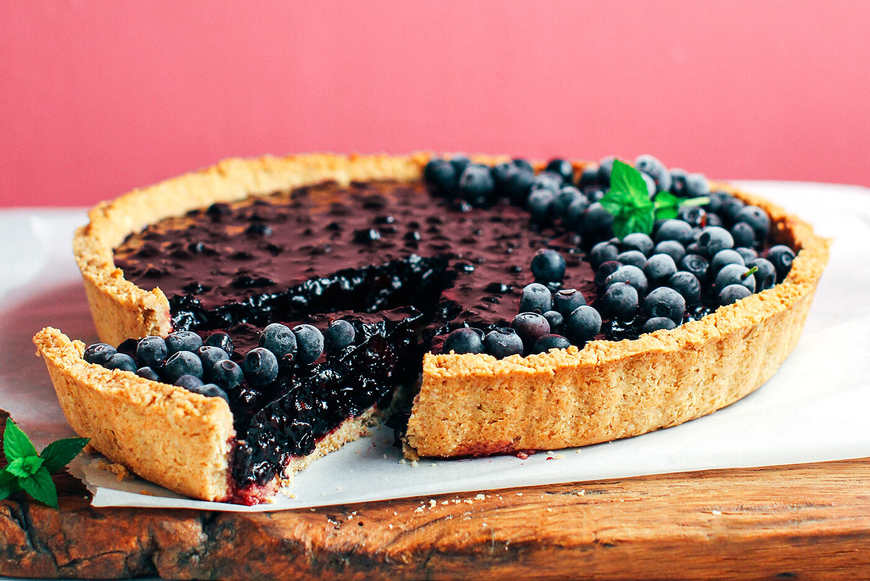 Recipe from Full of Plants
Ingredients:
CRUST
1 and 1/2 cup (150g) oat flour
1/2 cup (50g) almond flour
5 tbsp (75ml) coconut oil, softened
2 tbsp (30ml) maple syrup
1 tsp (5ml) vanilla extract
1/8 tsp salt
FILLING
3 cups (around 400g) fresh blueberries
1/4 cup (60ml) maple syrup
1 and 1/2 tsp agar powder
3 tbsp (24g) cornstarch (diluted in 3 tbsp water)
1/2 tsp vanilla extract
Instructions:
1. Preheat oven to 350°F (180°C).
2. In a large mixing bowl, combine the oat flour with the almond flour. Add the coconut oil, maple syrup, vanilla extract, and salt. Mix using a wooden spoon until well combined. Keep mixing using your hands until it forms a soft and slightly sticky dough. If the dough appears too dry, add 1-2 tbsp of coconut oil.
3. Transfer the dough to a 9-inch pie baking dish. Using your hands, press the dough evenly into the bottom and sides of the dish. You can use a glass to flatten the bottom. Note: This dough cannot be rolled out, you have to shape it directly into the dish. Prick the dough a few times with a fork to prevent it from rising in the oven.
4. Bake for about 20 minutes, or until golden brown. Remove from the oven and let cool completely in the baking dish.
5.To make the filling: place the blueberries, maple syrup, and agar in a medium-size saucepan. Heat over medium heat for about 5 minutes, or until the blueberries start to pop. Use a spatula to slightly mash them.
6. Dilute the cornstarch in 3 tablespoons of water and add it to the saucepan. Heat for another 1-2 minutes or until the blueberry filling slightly thickens. Stir in the vanilla extract and remove from heat.
7. Pour into the empty crust, and spread evenly. Let cool at room temperature for about one hour before transferring to the refrigerator.
8. Refrigerate at least 3 hours before eating. The filling will thicken as it cools. Serve fresh with vanilla ice cream, or as is!
This blueberry tart will keep for up to 4 days in the refrigerator.
Next Recipe
Recipe from Feast+West Ingredients:2 scoops vanilla ice cream (about 2 cups)2 tablespoons 100% pure maple syrup, plus 1 teaspoon for garnish1 to 4 ounces bourbon, to taste½ cup milk Instructions:1. In…